Dentures have been the solution for missing teeth dating all the way back to BC days. Of course, those were made of other human or animal teeth and like the person's original teeth, they deteriorated quickly. Our first president, Washington was always rumored to have had wooden dentures but actually he had teeth made from hippopotamus ivory and human teeth! Toward the late 1700's, dentures evolved to porcelain but people thought they were too white to be convincing, you can only imagine the state of people's teeth before modern dentistry. Porcelain dentures were apparently too fragile to be functional as well. A silversmith and goldsmith, Claudius Ash, mounted porcelain on 18-karat gold plates, with gold springs and swivels in 1820. From then on, Claudius Ash continued to develop advanced dentures made of Vulcanite, a form of hardened rubber into which porcelain teeth were set. In the 20th century, acrylic resin and other plastics became materials of choice.
There are different types of dentures today, from complete to partial. They are made with different plastics, nylon and acrylic resin, even porcelain and metal. Historically, people who have dentures don't care to put them in daily. This is because they never stay in place! The muscles of your cheeks and tongue learn to hold your dentures in place. There is still a routine to taking care of your dentures just as if they are your original teeth. You should always remove and rinse dentures after eating. Handle them carefully, they can break or wear from being mistreated, just like real teeth. Clean your mouth after removing your dentures and brush your dentures at least once a day. When you take them out for bed, soak them overnight. And when you wake up, be sure to rinse them before putting them back in your mouth, especially if using a denture-soaking solution.
In today's modern world of dentistry, we have a solution to the typical dentures we see now, the kind you think of resting on your grandparents bedside. That is the implant. Dental implants offer a way to keep dentures in place and allow you to go about your daily life with more comfort and confidence. A regular denture rests on the gums, but an implant-supported denture is a type of overdenture that is supported by and attached to implants in your jaw. The implants are made of titanium posts that are anchored directly into your jaw. Once the bone around this post has healed and adapted, your new synthetic teeth (denture) is snapped onto the implant. This secures dentures like never before. And you can still remove them to clean and brush them. Dental implant therapy is considered the premiere treatment option for people with missing teeth.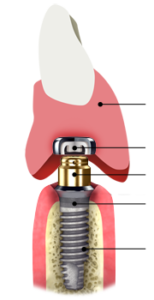 Of course, the Beautiful Smiles office of Long Island offers dental implants or overdentures. Once the dentist reviews your dental and medical history and you are deemed appropriate for dental implants, x-rays will be taken and impressions made so that your new denture models can be made. Make your appointment for a consultation today!